The contrast between the East and West side of Teri La Pass is fascinating. While coming up through Naar Valley the landscape is fertile and pastures are common, on the West side of the pass, Upper Mustang is dominated by eroded cliffs, empty plateaus and dust. We entered this moon-like landscape through narrow and steep valleys, crossing landslides, dry riverbeds and heavily eroding canyons.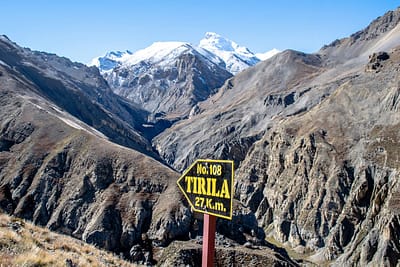 When we encountered the first villages, located on an altitude of 3'300m, we were very surprised to find oasis of green in the yellow, white and brown landscape. In Upper Mustang, the arable land is hard won through extensive irrigation systems that use the glacier meltwater from the high peaks.
Usually a main channel of water sourced above the villages can be diverted by a system of locks using wood and stones into the different stone walled orchards. Within the orchards, the water is again diverted to different areas or even to individual trees. So we found trees heavy with ripe apples, fields of buckwheat being harvested and horses, goats and cows roaming small green fields of grass.
Similar to Naar, the closeness between people and animals was striking, with cows coming home from the fields in the evening on their own and moo'ing at the gate of their yard to be let in to ponies roaming the narrow alleys of Lo Mantang, the capital of Upper Mustang. We experienced herds of more than 50 goats being driven by sometimes a single person through towns, all the while customers selected goats they wanted to buy from the doorstep of their homes.
Trekking through Upper Mustang, we spent most of our nights in simple lodges and enjoyed wonderful meals, usually containing, you may have guessed it, apples.