The Nepali city life is definitely something to get used to when you arrive from the quietness of the mountains. Already in Pokhara we were astonished about the number of vehicles on the road, people walking, sitting, standing in every corner and shop after shop after shop, but it seemed to be double the chaos in Kathmandu. Pokhara is called Lucerne of Nepal and the resemblance due to the lake in front and the stunning Annapurna Mountain range behind the city is indeed recognisable. But before we started the hike up to the Peace Pagoda to admire the view we enjoyed a long hot shower and brought our clothing to the laundry. What a refreshing feeling!
After a short boat ride over the lake, we were nearly running up the hill to the stupa – seemed so easy on 400m altitude. The only thing slowing us down was the heat and the humidity. Together with many local visitors we enjoyed the view on the Machapuchare peak.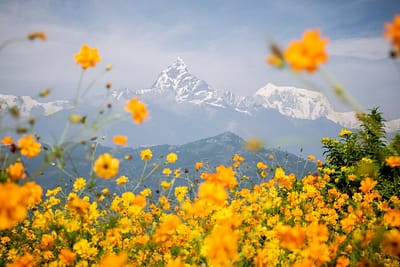 Similarly to Lo Manthang we were astonished, how many Nepali, mostly from Kathmandu or the southern regions, travel in their own country. Often, part of the journey is caused by the wish to visit an important religious sight but a part of it is also for fun and they travel with their whole family including grandparents.
We enjoyed a visit to the International Mountain Museum in Pokhara, which was definitely worth to spend some time in. The three main parts of the exhibition are called: The Mountains, People in the Mountains (contains stories of living, working and climbing) and the People of Nepal (the different tribes).
Kathmandu could be called "the city of too much" – too much noise, dust, pollution, people and traffic. In Thamel, the touristic quarter of the city, the uncountable number of shops (selling all more or less the same in our eyes) overwhelmed us. The shopkeepers are quite eager, meaning nearly everyone addressed us when walking by and presented his wares. Therefore, we were glad to have Arjun, a university professor in economics, who accompanied us to three lovely sights in and out of Kathmandu: Swayambhunath stupa, Pashupatinath temple and Bhaktapur. Similar to many developing countries, Arjun can't make a living of the salary from his job at university, we really appreciated his wide knowledge of history, architecture, people and religion.
In Bhaktapur we got an impression how disastrous the earthquake in 2015 had been. Although many houses and temples have been rebuilt, there are still many buildings held up by supportive constructions like poles or beams.
After our few days in Pokhara and Kathmandu our Nepal adventure comes to an end and leaves us deeply touched. To us, there is nothing romantic or light to Nepal, but a roughness with an intense, unique and unforgettable beauty.