Sri Lanka's cultural heritage is fascinating. Its rich history goes back thousands of years and has gifted the island with countless ancient sites such as temples, palaces and gardens. We managed to visit two important places, the mountain fortress of Sigiriya and the sacred city of Polonnaruwa.
Sigiriya was built in the middle of the first millennia AD as a stronghold on a unique feature in the Sri Lankan landscape, a large piece of rock with a height of 200m, overlooking the surrounding plains. The citadel features a large palace building, cisterns to collect rainwater and bathing pools. Most impressive are the remains of the Lion's Gate, through which the last part of the ascent up to the top leads.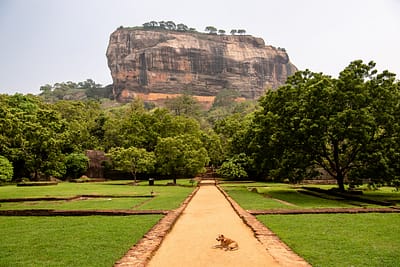 The buildings of Polonnaruwa date back to the 10th century AD. Throughout the centuries, numerous kings built what is today one of the most impressive archaeological cities of Sri Lanka. Among many ancient buildings such as a structure to hold the important Relic of the tooth of the Buddha are also four giant statues, all showing the Buddha in different poses including being at rest. A museum vividly explains the ancient cities history and the area covering many square kilometres can be explored best by bicycle.