Driving over the Haast Pass we arrived at the West Coast. For several days we had to cope with very heavy rain, up to 20mm/h. The strong wind, the pouring rain and the dark clouds emphasized the roughness and in many parts the wilderness of this area. Though when the sun came through for some hours, the road along the coast offered impressive views.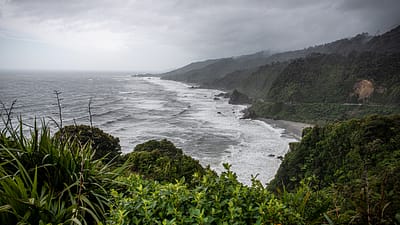 We managed to get some dry hours to visit the Franz Josef Glacier and sadly realized once again, how fast the glaciers are melting across the globe.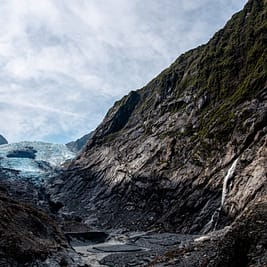 One stop which mustn't be missed to have a look at are the Pancake Rocks of Punakaiki. The stormy sea with huge waves just added to this great landmark. We did the walking loop twice, once before and once after having eaten really delicious real pancakes in the Café.
Early settlers stayed in this challenging area because of the rich natural resources, such as coal, wood and gold. To look at the remains of Denniston, a coal mine town until the 1980s gave us an impression what it used to look like. Today, the main income on the West Coast is farming and tourism but there are still working mines.
From our point of view, the most beautiful place on the west coast is Karamea. The sign on the town's entry says: "Welcome to Paradise" and soon the quiet, the slowness and the remoteness of this place (the road is a dead end) took us in and we enjoyed two beautiful days there. One whole day we strolled through the native forest in the Oparara Basin with a guide who taught us a lot about ferns, mosses, trees, the geology and challenges of the area such as floods, earthquakes, landslides and storms. We looked for spiders and fossils in the caves, admired the trees which inspired the producers of Lord of the Rings for the Ent and joyfully watched the curious Robin Bird who landed just in front of our feet. Two limestone arches are the highlight of this Reserve, the smaller Moria Arch and the 40m high Oparara Arch.