Making our way down the scenic East Coast of the South Island, we came upon an area that is a bit less travelled by tourists, the so called Southern Scenic Route. It runs from Dunedin along the cost through the Catlins National Park to Invercargill and then turning North, towards Te Anau and Queenstown. The first spot that impressed us with great scenery, blue skies and a lot of wind was Nugget Point, featuring a very photogenic path to a lighthouse and sea stacks.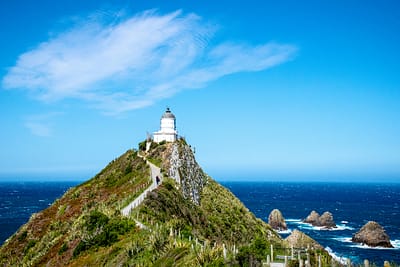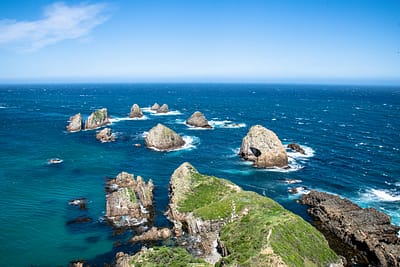 The Catlins NP at the southern tip of the South Island covers rolling hills along the coast. There we found ancient forests with colourful ferns and secluded waterfalls.
Another beautiful spot we stumbled upon along the route was Gemstone Beach. The sunny weather and flowing clouds brought out the most of the myriad of smooth, differently coloured rocks on this gravel beach.
Turning North from Gemstone Beach, we soon hit a tourist spot again, the Fjordlands National Park. Choosing between the both famous Milford Sound and Doubtful Sound, we opted for a day in the latter. Luck was on our side from a weather perspective, as the constant rain in the previous days created an uncountable number of waterfalls on the high mountains of the fjord against the everchanging sun and clouds driven by the strong winds in this wild and remote place.
The island soon showed its more quiet and sunny side again, with beautiful flowers growing on the banks of Lake Hawea.
We thoroughly enjoyed taking a "detour" off the usual tourist routes through the South Island, a luxury that our relaxed travel itinerary allowed and we can only recommend to visit to the varied landscape of the South.